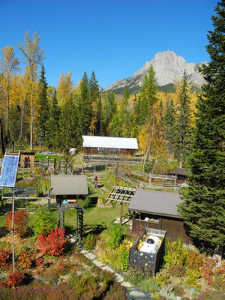 At Spruce Spring Stream Farms (SSSF) our soil has been exclusively organically treated since 1971.  The farm's power is generated by spring fed micro hydro and solar panels.  We use our chickens droppings and plant based compost teas enrich our gardens.  Our produce is watered from artesian springs.  Our greenhouse is passively solar heated and uses a gravity fed hydroponic system.  We use light, simple machines that do not compress the soil.
Our Mission
To grow and share a variety of high quality produce using organic sustainable practices.
About Us
Jeremy and Rebecca purchased this land in November 2013 with a vision of restoring it to a viable working farm using the same sustainable organic farming techniques that have been used there since 1971.
The 30 raised beds in the vegetable garden and the surrounding perennial herbs were a great legacy.  In 2014 Jeremy and Rebecca cleared a further acre of land to host a 1000 sg ft timber framed greenhouse, several hundred feet of new garden beds and a small orchard of raspberries, haskup berries, fruit and nut tress.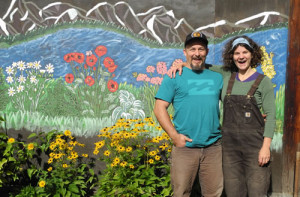 Rebecca's past tree planting experience gave her a strong back while her college and university education in wildlife, fish and recreation gave her a strong background knowledge of native medicinal plants and natural systems.
Jeremy planted 1.8 million trees across western Canada over 11 years leaving him with strong hands and a patient mind.  He is fascinated by the marriage of natural processes with innovative farming and homesteading techniques techniques to live harmoniously with nature.
Farm History
The farms founders, Susan and Duncan met at UC Berkeley and were married in 1965.  They bought 4 lots (250 acres) on Hartley Lake Road at the end of that summer.
Duncan spent the summer of 1970 on the land trying out test gardens.  He chose the area furthest up Hartley Lake Road because of its creeks and springs and because it is surrounded by crown land. This is where Spruce Spring Stream Farms (SSSF) is today.
In 1972 they returned and built the first log cabin 11′ X 11′ from trees on the land.  Susan started herbs from seeds.  The plentiful thyme, lemon balm, lovage, marjoram, and other herbs are still growing around the farm today.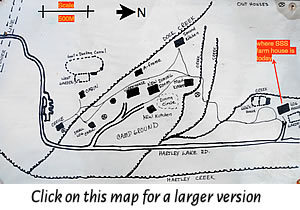 For the next several years they continued to develop the gardens and build simple shelters.  They used organic gardening techniques; working the land by hand, composting, companion planting, mulching, crop rotation, using white dutch clover for a ground cover, compost teas and cover crops.  They experimented with 5 garden plots over the 250 acres. Where Spruce Spring Stream Farm's main garden is today was the smallest of them all.  At different times they raised goats, pigs, sheep, chicken, ducks and donkeys to eat brush and turn up the earth.  The manure was used for compost.  No machines were used to work the soil or till the land.  They learned how to manage water, firewood, outhouses, gardens, shelters, cooking for groups of people, organizing chores, living off the grid and work projects.
All of this was happening during the "back to the land movement" in the early 70's. So lots of people were interested and many friends came to the farm each summer to help.  Their goal was to create a land-based community.  They were constantly experimenting with new gardening techniques, new building projects and better ways of organizing themselves.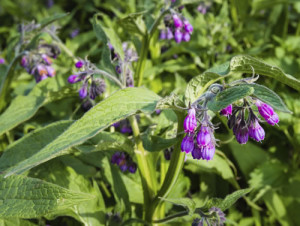 They spent a lot of time teaching others and in 1976 created a cooking and gardening program.   In 1977, the Still Mountain Natural Living Society was created to develop summer educational programs, which ran till 1987.  Classes ranged from gardening, whole foods cooking, wild plant identification, herbal remedies, shiatsu massage, and Tai Chi.
In 1981, Susan's friends, Leona and Bob Gadsby began to build the log home that is the main farm house at Spruce Spring Stream.  The left to pursue their careers in 1989.
Susan Sim moved into the farm house in 1991 and with the seasonal help of WWOOFers (Willing Workers On Organic Farms) she focused her attention on the gardens surrounding it, planting elaborate perennial gardens bursting with medicinal herbs.  She continued teaching workshops on composting, organic gardening, wild plant identification, and herbal remedies.